No Ranch? No Problem!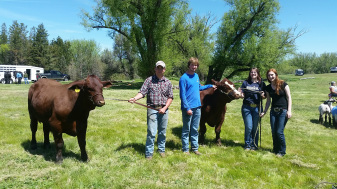 CALF brings suburban kids to the country.
John and Bea Lowell, CALF's founders, were dedicated to ensuring that all youth who wanted to be involved in agriculture had the opportunity to do so. They started the "CALF Kid" program in 2002. CALF provides facilities for
4-H and FFA members to raise their market livestock projects at the Lowell Ranch. Over the years, more than 40 youth have raised their projects at CALF's Lowell Ranch.
CALF Kids purchase their animals and provide daily care and feed for their project. CALF provides the facility.
CALF Kids may also have gardening, forestry, or other projects at the ranch. Potential CALF Kids are required to be current members of 4-H or FFA, fill out an application, and receive their parents' and leader's approval.
All CALF Kid candidates must submit their application no later than February 28th each year. All candidates will be interviewed and CALF Kid spots will be filled based on interview results and space available.
CALF Livestock Stewardship Policy
---

Content Copyright 2016 Colorado Agricultural Leadership Foundation. All rights reserved.