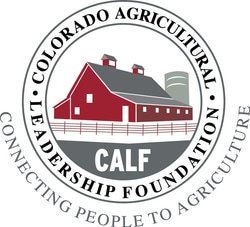 Experience Agriculture
at CALF's Lowell Ranch!
---
---
__


he Colorado Agricultural Leadership Foundation (CALF) is a 501(c)(3) non-profit organization dedicated to

Connecting people of all ages and abilities to agriculture

through authentic educational programs, community projects, and special events.

Values:

We are committed to the Lowell's work ethic and rural values of cooperation, discipline, responsibility and personal excellence.

Goals:

We promote an appreciation and increased awareness of the importance of agriculture in everyday life by:

Sustaining and maintaining the Lowell Ranch as a premier working agricultural education center
Promoting participation in agricultural activities such as 4-H and FFA livestock and gardening projects
Providing real life educational experiences that align with educational standards at a local and state level
Sharing the significance of our agricultural heritage and rural lifestyle
Encouraging sound, scientific stewardship practices for agricultural lands and livestock

We invite you to Experience Agriculture @ CALF's Lowell Ranch!

---
---
Content Copyright 2017 Colorado Agricultural Leadership Foundation. All rights reserved.