---
Welcome Heidi!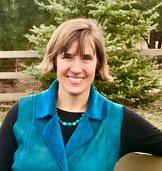 ​On April 14th, Heidi Bailey, a Colorado native joined CALF's team as a Program Coordinator. Heidi will help oversee CALF's education programs and provide administrative help.

Heidi has lived in Douglas County for over 23 years with her husband. She is the proud mother of four children, ranging from 4 to 18 years of age, with most of them having participated in field trips to Lowell Ranch over the years. Heidi is excited to bring her love of animals, plants, children and people of all ages and abilities to CALF.

Heidi received her Bachelor of Arts in Human Biology at the University of Northern Colorado and then worked in medical research and development. She received both her Physician Assistant/Child Health Associated Certificate and Master's Degree from the University of Colorado Health Science Center. She has worked as a physician assistant in the community for 15 years.

Heidi has roots in agriculture, starting out her first two years of life on her family's homesteaded farm outside of Greeley. Her father is a past Colorado FFA president. After having moved off of the farm, she spent many summers there or with her cousins on their dairy farm. Heidi was also involved in 4-H throughout much of her youth. As an adult, she has enjoyed gardening as a long-term, gratifying hobby.
​
Heidi is excited to join the CALF team and looks forward to working with the board, Brooke, Kim, the amazing volunteers and all of the wonderfully diverse people and animals that utilize Lowell Ranch.
---
---
Thank You!


CALF Top Hand Sponsors


---

CALF Board of Directors
Marcia Trehal, President
Carolyn Newcomer, Vice-President - Co-West Insurance
Larry Carnahan, Lowell Family Rep.– Federal National Finance Corp.
Carla Holst, Director of Development -- Rancher
Skip Serrell, Director of Facilities – Serrell Construction
Natalie Witzel, Lawyer, Parker
Nichole Campbell, Homeschool Mom and Beekeeper, Castle Rock
Teri Moore, Rancher and Chicken Expert